| | | | | | | | | | | | |
| --- | --- | --- | --- | --- | --- | --- | --- | --- | --- | --- | --- |
| STR | 15 | AGL | 5 | END | 10 | PER | 15 | INT | 5 | HP | 105 / 105 |
| | | | | | |
| --- | --- | --- | --- | --- | --- |
| gender | Female | sex | Female | sexuality | Undecided |
| age | 42 | body type | Large | rank | EmberClan Leader |
description
Genetics: Aa ll BB BB Oo oo TiTi ww ss CC DD ii wbwb
Emberstar's fur is long and covered with splashes of black and orange, a tortoiseshell cat. Up close, Emberstar's fur holds darker stripes within the blotches of orange on her body. The most striking feature of this woman, however, is the split down the middle of her face. The right side is completely bathed in black, no orange breaking the darkness. The black continues on the back of her head to cover the ear on that side, and even her nose is split with the dark color.
On the right side, Emberstar's eye is olive green color, however, the left is amber, also having the split much alike the rest of her face. She is a large cat, towering over some, though some cats may be larger than her.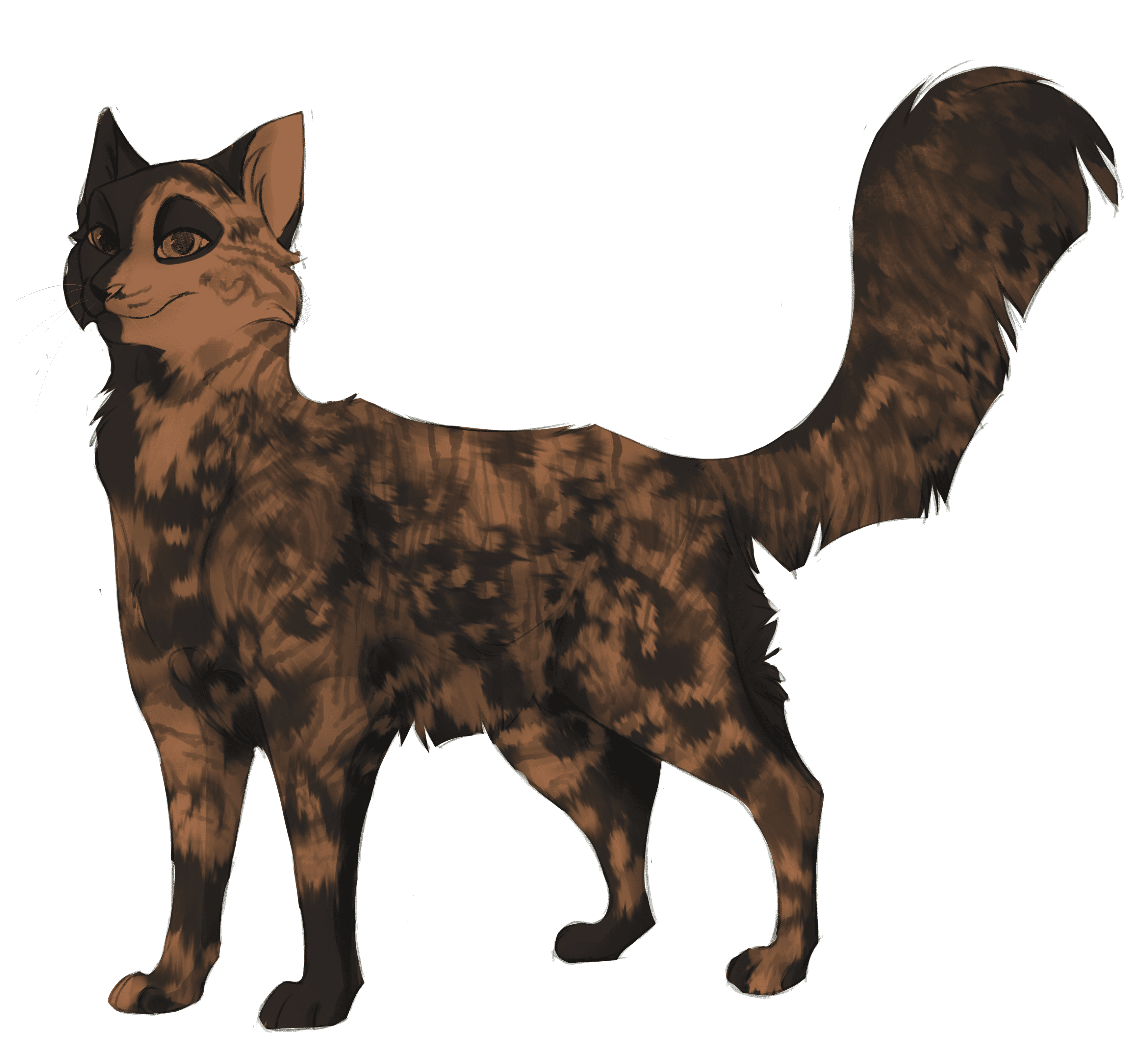 personality
Emberstar is known well for her ability to stand up for what she sees as right. At times, some may find that she takes things too far due to her diligence at fighting for her own morality. Emberstar, however, refuses to believe such thoughts and instead deflects into vowing to not die a coward.
Despite all of that, though, Emberstar can seem a little arrogant. It bleeds through in a form of seeing herself over other cats, sometimes unexplainably high. Emberstar puts herself on a pedestal over those she feels doesn't deserve to be seen.
Despite that, facing leadership like she is tends to make Emberstar crack under pressure, and make decisions that she herself wouldn't have made alone. Sometimes it even leads to emotional outbursts that she cannot contain. Emberstar does take the interests of her clan to heart, and always tries to make sure they are in a good spot before doing anything reckless, even though that plan may fail.
She isn't much of a jester, most jokes completely flying over her head and would need explaining. This cat tends to take things far too seriously and may be hard to talk to in some cases. Being an observant cat, Emberstar always keeps a sharp eye and ear out on all of her surroundings.
history
Played by: Nesta
Joined:
10-19-2020
Last Visit:

6 hours ago

Total Posts:
60 (0.21 posts per day | 3.81 percent of total posts)
(Find All Posts)
Total Threads:
5 (0.02 threads per day | 1.6 percent of total threads)
(Find All Threads)
Time Spent Online:
1 Day, 15 Hours, 28 Minutes
Members Referred:
0